JoHo on Curaçao
The Dutch Antilles
 Curaçao 
Coming to - Staying in - Leaving  
JoHo Membership
JoHo Membership & Services

Members of JoHo make it possible that JoHo can successfully support international projects in terms of development aid, knowledge exchange and talent development. Read more about JoHo World Supporter Projects
Members of JoHo can make use of worldwide discounts and the practical JoHo choice aid
Travel & Backpack

Tours & Training Desk 
The Tours & Training Desk offers information & booking facilities for fair tours & courses on talent development and local culture.
The aim is to contribute, share knowledge, experiences and skills &  to stimulate mutual understanding in the world.
Read more about travel & living on Curaçao
Why to come?
JoHighlights
JoHotspots
JoHorribles
When to go?
How to transport yourself?
Where to sleep?
What can you eat & drink?
Party, Party ... & Celebrations
Help & Inspire
Volunteering

The Children's Museum
The place to be if you want to help local children to develop skills that will improve their chances in the Curaçao community
Learn & Study

Internships
Training
Training volunteers & interns
Language Courses
 Language Courses papiamento?  visit the JoHo support center on the island
Summaries
JoHo World Summaries provides students in developing countries in Africa, South-America and Asia with an extensive overview of online course material and summaries within a large number of disciplines. As a network organization, World Summary Bank connects suppliers in Western countries with users in developing countries via an online platform. Suppliers and developers of content contribute on a voluntary basis. By offering free or cheap educational material, World Summary Bank believes that (higher) education can become increasingly accessible to everyone.
Summaries contain bulletpoints with the most important parts of a book. This enables students to get a deeper understanding of the texts that they have to read and alumni to refresh their knowledge.
By providing free or cheap online access to summaries worldwide, JoHo World Summaries stimulates more people to study, graduate and be able to find a job. This contributes to the international development of talents and skills.
JoHo World Summaries works with study-assistants and authors. Study-assistants are students that support JoHo World Summaries by finding out about which summaries students/alumni would like to read. Authors and editors are students or alumni that are further in their studies, write summaries and take care of the quality and language of the summaries.
 Work & Job Hunting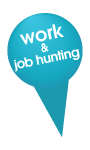 Career Courses
Are you planning to Teach English as a Foreign Language? Or are you looking for a new challenge?
JoHo offers quality TEFL courses for everyone who wants to gain teaching skills in English!
 Why take a (online!!) TEFL course?
Be well prepared when taking on a paid or unpaid TEFL job abroad.
Increase your chances of finding a job abroad with an internationally recognized TEFL certificate.
Get the confidence to step into your first classroom as a teacher by doing a comprehensive TEFL course.
Boost your earning potential by completing the industry standard of 120 hours of TEFL training or more.
Take your TEFL course with an internationally recognized and accredited provider.
Emigrate & Immigrate
Emigration & Immigration desk

The JoHo Emigration Desk offers support for those that want to emigrate or temperory move to Curaçao. Expats and emigrants can ask advice about arranging their stay on the island.
Insurances
Volunteering
.Kids Holidayplan!
Organizing activities for local kids
Required: some experience with working with kids
Nature Curaçao
Volunteering in one of Curaçao's nature reserves
Required: good physical health
Rehabilitation centre
Volunteering in a youth rehab centre
Required: some relevant experience
Ask for more options: info@joho.org
Internships & Work Experience
Diving School
Activities: Management support - Promotions & Marketing
Required: outgoing personality
Pro's: free diving course
Eventmanagement
Activities: Organizing evens - Promotions & Marketing
Required: creative & initiating personality
Pro's: lots of fun
Ask for more options: info@joho.org
Gap Year
Combine a Gap Year with a 3 month study and career program on Curaçao
 
A Gap Year on Curaçao is a good choice for young people, who after graduating high school, find it difficult to make a study choice and want to improve their language skills, wish to discover the world or just want to enjoy.
In this program you work on your personal development, get to know another culture, learn a language and get an insight in the customs and traditions of the country. Attention is also paid to the decision making process regarding the right study choice. The Gap Year program takes 3 months and consists of:
Ticket

Accommodation

Transport (during course days from and to accommodation)

Language course Spanish: 3 hours per day during 4 weeks (total: 60 hours)

Study choice tests, this in order to choose the right education

Coaching with living on yourself

Basic cooking course; ingredients, nutritional value, basic recipes, tips and tricks

Diving course: 4 days, open water, including diving certificate

Voluntary work; this can be in the zoo, childcare, the foundation for sustainable

nature conservation or the animal shelter

Guidance and 24/7 access to helpdesk
Throughout the Gap Year (program) there will be plenty variety between serious business and relaxation. This can be voluntary work, making study (choice) tests and touring the island, getting your diving certificate, following the cooking course and socializing with other participants.
Ask for more options: info@joho.org
Prices for internships & volunteering: from 450 euro (2-8 weeks or longer )
Information: info@joho.org
JoHo Antilles
JoHo Antilles  is an initiative of The JoHo Foundation &  Wereldstage Organization
Adress
Scharlooweg 75
Willemstad,
Curacao 
T: 005999 462 6335
F: 005999 462 6218

International Insurances